For many, January is that time of year when life gets smaller as you stay indoors out of the winter cold, refrain from all the exciting things you recently ate in the hope of reducing your waistline, and for some even abstaining further with Dry January. However for others, it's a time full of wonder, excitement and the future – it's the time of the Consumer Electronics Show, better known as CES. With more than 4,500 companies showcasing their latest technology, there's something for everyone and here are just a few things that were on show.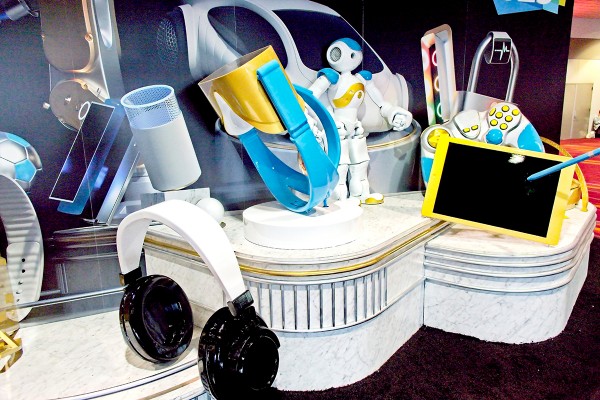 Whilst there were a lot of super-sized and 8K televisions on show, LG used CES to showcase their Signature roll-up OLED TV RV. Whilst TVs are getting bigger, they're also getting less conspicuous – retracting into a base at the end of the bed, looking like a framed picture on the wall – and now they can be rolled away. The Signature OLED is a 65-inch rollable TV that can roll down into a Dolby Atmos soundbar where it's completely hidden from view. It can even go into what they call Line Mode, where it doesn't roll down completely and offers a display to control music, photo display etc.
It's interesting that LG have looked not just at what the television can do, but also how it looks in the room. We want super-sized TVs, but we don't a big black rectangle, taking up too much space and dominating the room when it's not on – and this is what they're addressing. What happens to the television when not being used? How do they look and how do they impact on a room now they're so big? Technology needs to offer more but also be unobtrusive.
The LG Signature wasn't the only device on show that could change its shape. Royole showcased their FlexPai foldable smartphone with a flexible display making it a "combination of smartphone and tablet". With some big names promising flexible smartphones this year it looks like this could be a trend for 2019. Samsung have confirmed they'll be releasing the Galaxy X with foldable screen in February and Huawei are rumoured to be announcing theirs at MWC.
As per previous years, wearables have been big at this year's CES from the well-known Garmin to the lesser known DFree. Short for "diaper free", the DFree is a wearable bladder ultra sound sensor that tells you when to pee. Yes, may sound bizarre but as with so much tech innovation, what's bizarre for one person is really useful for another. Designed for use by hospitals and care homes, this could help a lot of people and make their lives a lot easier.
No tech show would be complete without showcasing automotive and CES was no different with one of this year's themes being 'Transportation in the Smart City'. Here, big names announced their advances in the connected car area, visitors were given the opportunity to try out driverless cars and Hoversurf showed their flying drone bike, presently being used by the Dubai police. A case of what we thought was the future, becoming a present day reality!
If you don't like the idea of a bike that flies, what about a car that walks? Hyundai's Elevate is a 'walking car' with bendable legs that can walk or fold away when not needed so the car uses its wheels instead. It can drive along the roads like other cars, but unlike other cars, it can also climb a 5-foot wall! Still at concept stage, don't expect to see them on local roads soon. This is aimed at the emergency services who often have to navigate hostile terrain. According to David Byron, Design Manager of Sundberg-Ferar which worked on the concept:
"Imagine a car stranded in a snow ditch just 10 feet off the highway being able to walk or climb over the treacherous terrain, back to the road potentially saving its injured passengers".
Initially it may sound a wacky idea, but it's another great example of technology being used to help people.
That's one of the great things about CES. Yes, it may leave your head spinning, but it also hosts a wonderful array of technological innovations that were once just an idea belonging in the future. Walking around the event will leave your body exhausted and your head spinning but you'll also be transfixed, inspired and looking forward to next year's event.