The theme of this year's Cambridge Wireless International Conference CWIC2019 was Digitising Industry – a theme which is enormously wide ranging and could easily fill a full week's worth of talks and discussion. The quality of the speakers was high and the presentations were fast-paced and packed with facts, figures and food for thought. There was a lot to get through in one day so there was no time for death by PowerPoint or procrastination!

So let me follow their example and cut to the chase in my wrap up. The venue, the world-renowned Wellcome Genome Campus at Hinxton set the scene well: modern, light, state-of-the-art facilities with a personable feel and home to life-changing sciences. This seemed the perfect backdrop to hold discussions around where we're headed with a raft of new technologies (not least 5G) which they tell us will digitise everything, but will also improve our quality of life.

"Uncle Ben once said "with great power comes great responsibility"" was #Samsung's @RajGawera's opening gambit. Getting digitisation right is key, of course. With so many technologies involved, and moreover so many suppliers involved, without a certain degree of openness and integration nothing will work for the overall benefit of the intelligent cities, automotive (or mobility as it was referred to), industrial IoT, smart agriculture, health services, and each and every one of us as consumers and as individuals. And this critical need for collaboration opens up the debate over how IP will be protected and how cybersecurity will be managed.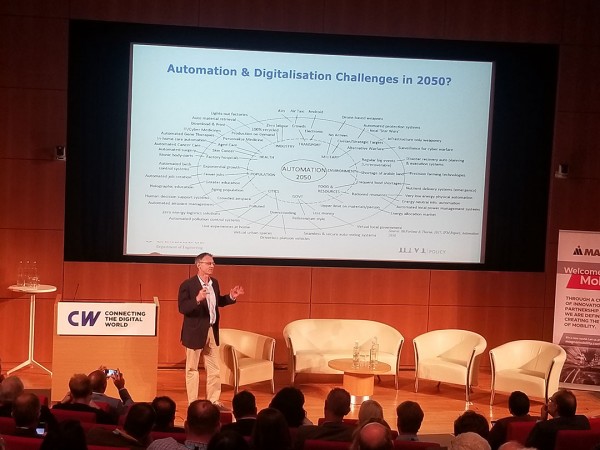 Professor Duncan MacFarlane gives us an idea of the sheer volume of challenges involved in digitising industry

Prof. Jay Srage, visiting from the @MichiganRoss Business School, told us that digital transformation is not a one time project; it's a vision and an evolution...and everyone needs to take part. That's everyone from big corporates, smaller organisations, government and all their distributed authorities, universities and individuals like all of us sitting, listening, and able to play a role.

The conference was impressively well run by @cambwireless. It was refreshing to me to be able to attend a conference with so much compelling content and such a range of key players to listen to and network with, just down the road in a relatively rural spot in Cambridgeshire. The exhibition area was wide ranging and with lots of interactive opportunities, from @VirtualArtsLtd showing AR and VR experiences including games and retails apps, to seeing the Red Bull Formula 1 car out front brought in by @kxsystems and upstaging any execs arriving in more run-of-the-mill Aston Martins…. After the opening presentations and first plenary session, there were opportunities to attend a choice of industry specific tracks. I would have liked to attend them all to be honest, but as I said before, it was already an achievement to fit as much as the organisers did into a single day conference, so it was a case of divide and conquer as my colleague went along to the tracks that I couldn't.

#MagnaInt, global leader in the automotive sector looked at the importance of the mobility services that would be enabled by #5G. The need for a second car in a household could be removed and replaced with "mobility services" that enable consumers to focus more on the activity they need to do and less on the ownership of the equipment.

#Qualcomm then explored the impact of 5G on industrial IoT. Historically industrial areas would have lagged in the adoption of new cellular technologies. But this is not the case with 5G and especially not in Europe where the pace is being set with industrial IoT. Immediate adoption is occurring and solutions are being found to overcome the differing requirements of each IoT device and the overall needs of this space where the drivers are predominantly latency, availability and rate of data.

Agriculture is one area where huge changes are needed to produce food more efficiently and more sustainably. With poor planning and massive waste affecting all points along the supply chain, it's said to be the least digitised of our key industries. Yet farmers are on the whole very much open to taking on new tech, if, and this might be a big if, component costs are such that investment is possible at the right level.
As one speaker put it, it's no more of a step for farmers to take on the newest high tech systems than for the average consumer to get used to using a smartphone; it comes down to usability. And as before, integration of the supply chain and cooperation within the ecosystem are essential. And according to the vendors who gave us whistle-stop tours of their services, this all so imminently possible. In fact big things are already happening in pilots, and as fully rolled out operations in some cases.
When it comes to transport, we were told to think of it now as "mobility", with services that will change our approach to how we get around. Mobility is key to quality of life. The UK is certainly a place where we can become literally and metaphorically gridlocked in terms of resolving motor travel, parking and public transport issues. With our high levels of population density, and with the layouts of villages, towns and cities that have evolved over hundreds of years and by no means set up to deal with modern day pressures, big changes are needed.
Gemma Schroeder talked of the @SmartCamb Connecting Cambridgeshire initiative that aims to get 1 in 4 people out of their cars, working on the mobility aspect of a #smartcity in the area immediately local to the CWIC2019 event. Thinking of how we work towards achieving this kind of vision, Ian Simmons of @MagnaInt told us the route from automotive to fully connected mobility services requires embracing the ecosystem, really understanding connectivity and changing behaviours. Esther Ford and Rajesh Sagar of @MarksandClerk agreed, saying that collaboration and interoperability are essential for smart cities to flourish, but the right legal protection is needed.
There was a change of tone in the Retail track, where it felt like we were considering some of the more fun aspects of digitisation. Fun for the consumer, but of course critical in terms of business success for the retailers who need to deal with the ever-changing dynamics of online and in-store shopping. #Metail allows you to see yourself, your size and your shape in your online shopping experience. Maindu Kiwdu explored new ways for retailers to increase confidence in online clothing purchases, and it's not always as straightforward as giving the consumer what they say they want. Cognitive technology will shape how we shop according to Julian Burnett @IBM #IBMWatson, whilst for Dr Tim Moore of #GHD, it's all about embracing the continuous customer in order to succeed in the new age of retail.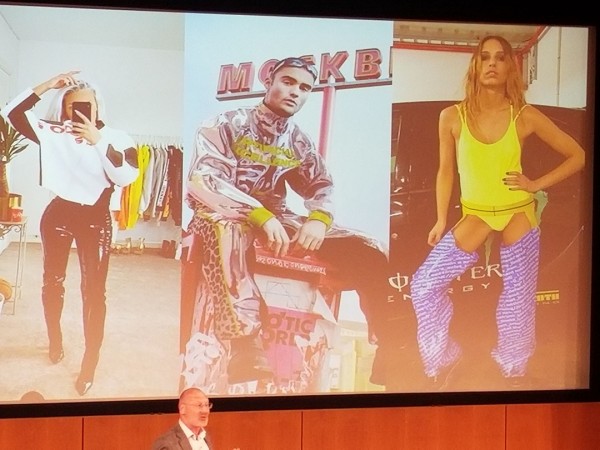 Dressing up for #Instagram – Julian Burnett discusses "shopping" trends

We couldn't have a conference entitled Digitising Industry with about a sizeable chunk dedicated to discussing 5G. Is it really here? Will it really be here soon?

Ben Timmons @Qualcomm told us that 2019 is indeed the year of 5G. And that the real impact will be across the board, not just consumer benefits, with particular impact for industrial #IoT. Another huge and life critical area was brought to our attention by Fred Barrigar, who explained how @livongo uses connectivity to help people with chronic conditions to live better, through self management supported by intelligent insights and predictions.

Speaking on behalf of @tmforumorg, Nik Willetts agreed with the earlier look at the mountain of challenges, telling us that the level of IT complexity in every industry is at risk of getting out of control. Deep level integration is needed. And agreeing with how this mountain can be climbed, Lori Thorpe @Vodafone supported the recurring theme at #CWIC2019: the importance of partnerships and ecosystems in order to make it all work. But with collaboration comes risk, and the debate on #Cybersecurity highlighted that safety of data and systems can't be just "good enough", with personal safety, transport, utilities and emergency services at stake.

The day was wrapped up by a captivating speech by Roland Schatz, Senior Advisor to the UN Director General, who alluded to a new initiative coming to Cambridge and many other cities, the Cities Leadership Platform where the community approach is embraced. Watch this space…